The Saudi designer Arwa Al Banawi champions female empowerment and Arabic culture
The collaborative sneaker blends Eastern and Western influences
The Arwa Al Banawi Forum Lo sneaker launches globally on 28th of May
Early Access exclusively from AlUla on 25th of May –
This season, adidas Originals and Arwa Al Banawi have come together to launch a carefully considered take on the iconic Forum silhouette, with a newly designed sneaker that was launched for sale virtually on early access exclusively from AlUla in Saudi Arabia on 25th May.
Over the past few years, Arwa Al Banawi has made a name for herself as one of her generation's most impactful designers. Through her Saudi Arabian brand, she has consistently inspired Arab communities by empowering women and communicating authentic cultural touchpoints.
Known for the way in which she elevates each of her collections with original storytelling, Arwa Al Banawi blends traditional tailoring with contemporary perspectives, working out of her design studios in Jeddah and Dubai to seamlessly bring together Eastern and Western influences.
The collaborative sneaker brings a suite of personal touches to the timeless Forum silhouette, blending multiple perspectives — East and West, Past and Present — to reinterpret the designer's personal heritage for the future. Seeking to empower women from her home region and beyond, while demonstrating a firm commitment to communicating Arab culture to the world, the Arwa Al Banawi Forum silhouette, pays homage to the designer's Gulf roots, reimagining them in a new context.
adidas Originals pays homage to Arwa Al Banawi's roots combining the essence of the Saudi Arabian culture with modern inspiration. Celebrating her cultural heritage, the Adidas Originals by Arwa Al Banawi Forum Lo Sneaker launches as an Early Access opportunity offering limited pairs, exclusively from AlUla in Saudi Arabia -for all Gulf countries to purchase virtually on the 25th of May at 6 pm UAE time.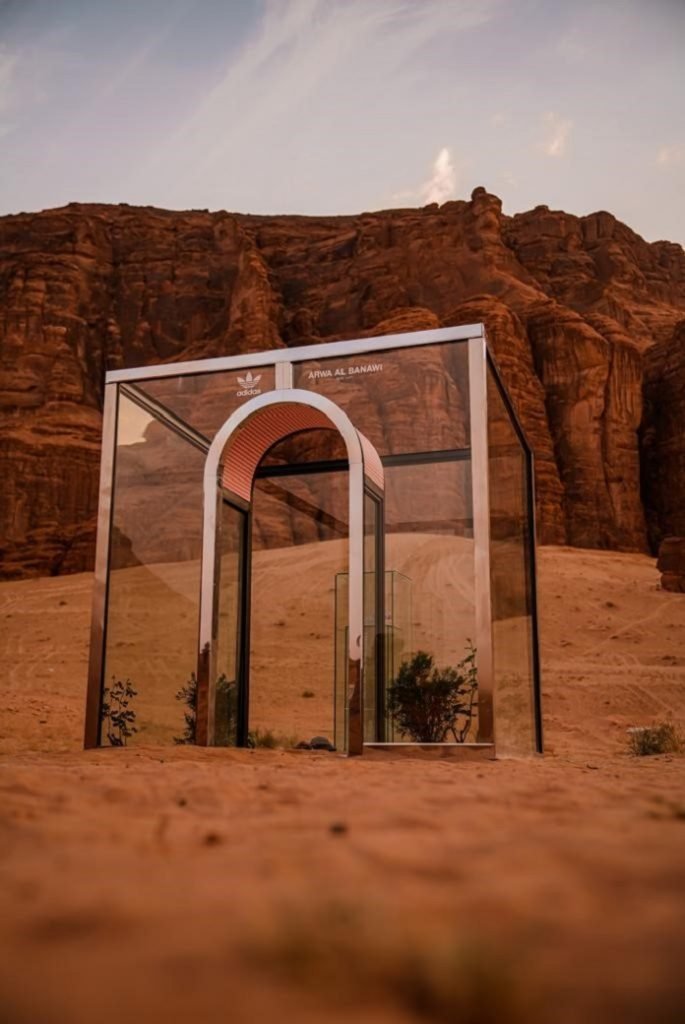 The collaborative sneaker blends Eastern and Western influences and is mirrored with a contemporary art installation in the middle of AlUla – a magnificent heritage destination with stunning rocky landscapes in North West Saudi Arabia.
Drawing on Arwa's spirit animal, the "Ibex", the sneaker's unique details are partly inspired by "Capra" — which translates to "Mountain Goat Family". Composed of a canvas upper with suede overlays and matching leather stripes with hand-stitched embroidery, the Arwa Al Banawi Forum Lo sneaker is rendered in desert-esque pantones.
Serving as an ode to the designer's roots and identity, the unique silhouette boasts a woven red and white heel cap which is inspired by the checkered pattern of traditional Arabian fabrics. This poignant detail was carefully crafted by Arwa to champion her Gulf heritage, bringing Eastern emblems to a shoe that has a rich Western history, and representing a subtle nod to a new generation of creative talents who are blending hybrid perspectives in unconventional ways.
Rounding out the look, the Arwa Al Banawi Forum Lo sneaker features branded lace jewels, a graphic footbed with contrast binding, and gold foil co-branded details.
The sneaker is then brought to life through a striking campaign that juxtaposes contemporary style codes with natural landscapes and farm goats. Seeking to remind audiences to remain connected with the planet, the campaign quintessentially captures the designer's immense respect for nature and the environment within which we live.
General Sale is on the 28th of May through adidas.com globally and select Gulf retailers. 25th May 6 pm UAE time: GCC Early Access adidas.com live from AlUla, Saudi Arabia 28th May 10 am UAE time: General Sale, Global & GCC
@ExperienceAlUla
@adidasMENA
@ARWAALBANAWI
#adidasForum
AlUla – Located 1,100 km from Riyadh, in North-West Saudi Arabia, AlUla is a place of extraordinary natural and human heritage.
The vast area, covering 22,561km², includes a lush oasis valley, towering sandstone mountains, and ancient cultural heritage sites dating back thousands of years to when the Lihyan and Nabataean kingdoms reigned. The most well-known and recognized site in AlUla is Hegra, Saudi Arabia's first UNESCO World Heritage Site.
A 52-hectare ancient city, Hegra was the principal southern city of the Nabataean Kingdom and is comprised of 111 well-preserved tombs, many with elaborate facades cut out of the sandstone outcrops surrounding the walled urban settlement.
Current research also suggests Hegra was the most southern outpost of the Roman Empire after the Roman's conquered the Nabataeans in 106 CE. In addition to Hegra, AlUla is also home to ancient Dadan, the capital of the Dadan and Lihyan Kingdoms and considered to be one of the most developed 1st millennium BCE cities of the Arabian Penninsula.
And Jabal Ikmah, an open-air library of hundreds of inscriptions and writings in many different languages. Also AlUla Old Town, a labyrinth of more than 900 mudbrick homes developed from at least the 12th century, and Hijaz Railway and Hegra Fort, key sites in the story and conquests of Lawrence of Arabia.www.experiencealula.com
Arwa Al Banawi: Bridging the gap between high-end fashion and streetwear, Saudi designer Arwa Al Banawi is inspired by an eclectic mix of contrasting references, blending traditional tailoring with contemporary influences. AlBanawi is known for her unwavering commitment to bringing together Eastern and Western perspectives, often paying homage to her Gulf heritage and reinterpreting it through new lenses.
A natural champion for her home region, Al Banawi stands for empowering women and never ceases to communicate Arab culture through her brand. Her travels abroad instilled a deep love and appreciation for fashion. A former Investment Banker, shesaw a void in the market for womenswear that is both professional and fashion-forward. After studyingat the London College of Fashion in Dubai, she launched her namesake brand in 2015.
Her brand slogan — Designed for 'The Suitable Woman' — poignantly positions her aesthetic as subtly androgynes yet undoubtedly feminine. Al Banawi received the Grazia Style Awards' Designer of the Year Award in 2019 and featured in Forbes 10 Most Successful Saudi Female Designers list in 2020.
adidas Originals: Inspired by the rich sporting heritage of adidas – one of the world's leading sports brands and a global designer and developer of athletic footwear and apparel – adidas Originals is a lifestyle brand founded in2001. With the adidas archive at its foundation, adidas Originals continues to evolve the brand's legacy through its commitment to product innovation and its ability to filter the creativity and courage found on courts and sporting arenas through the lens of contemporary youth culture.
Marked by the iconic Trefoil logo that was first used in 1972 and championed by those that continue to shape and define creative culture, adidas Originals continues to lead the way as the pioneering sportswear brand for the street.Check this out : https://shop.adidas.com.sa/en/arwaalbanawi