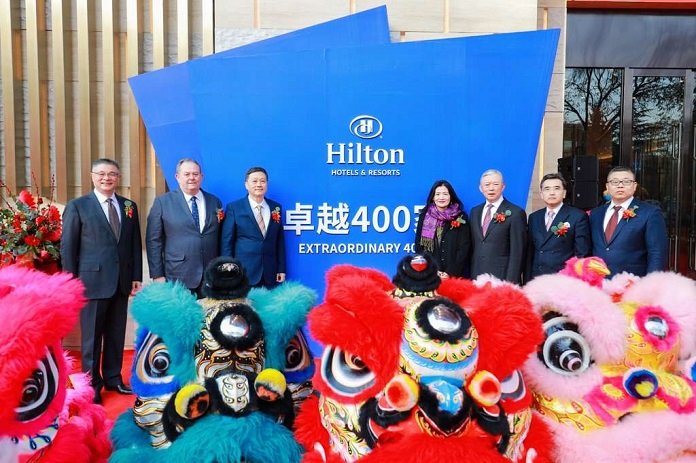 With the opening of Hilton Lanzhou City Center, Hilton demonstrates ongoing growth momentum and commitment to exceptional hospitality in China
Hilton celebrates a new milestone in China with the opening of its 400th hotel in the country, the Hilton Lanzhou City Center. The opening marks the first hotel under Hilton Hotels & Resorts in Gansu Province and signals positive growth momentum for the company amid a difficult year to continue to rapidly expand its market presence.
Located in the city's central business and shopping district, the Hilton Lanzhou City Center offers a modern, professional and upscale venue for conferences, exhibitions and business meetings, while injecting new vitality into the city. development of the city's tourism and business sector, according to the company.
"This is an important milestone for Hilton's growth trajectory in the Asia Pacific as we continue our stellar journey as the fastest growing global hotel company in the region," said Alan Watts, president of Hilton Asia Pacific. "As one of our strategic growth markets, we have continued to invest heavily in China, launching several remarkable initiatives including our large-scale franchise model in China, the introduction of our extended stay brand Home2 by Hilton and multiple strategic partnerships to develop our brand and presence. Despite the many disruptions caused by the pandemic, we have remained true to our commitment to deliver exceptional customer experiences and to optimize our offerings for partners and owners. "
A year of continuous growth in China
In another year that remained operationally challenging, Hilton turned to recovery trends to meet evolving industry needs with new accommodation options and services:
The launch of the large-scale franchise model with Hilton Garden Inn: With targeted service hotels representing the fastest growing hotel industry in China, the company introduced its large-scale franchise model to the country, starting with its targeted service brand Hilton Garden Inn.
The introduction of long-term accommodation options: Hilton introduced the extended-stay industry with the launch of the Home2 Suites by the Hilton brand, which debuted in China this month in partnership with Funyard.
Providing guests with high quality, carefully designed accommodations and amenities, Hampton by Hilton: Celebrating its 200th hotel opening in China in September, demonstrating strong growth since launching in the country almost seven years ago, with more than 600 properties currently in development.
Raising the Levels of Luxury Hospitality in Leading Cities in China with Established Partners: Working closely with the partners of the Shimao Group, from January 2022, customers can expect the addition of the first Conrad hotel in Shanghai, as well as Zhuhai and Wuhan in the coming years. As part of the same partnership, Waldorf Astoria will mark its debut in a major new city with the opening of Waldorf Astoria Shenzhen.
"Over the past year, our team in China has grown steadily, demonstrating the resilience and potential of our employees at Hilton and the Chinese market," said Qian Jin, President of Hilton Greater China and Mongolia. "Hilton remains committed to contributing to the sustainable development of the Chinese travel and tourism industry, winning with our partners and providing more choice for our customers, as evidenced today by the opening of the Hilton Lanzhou City Center. We are delighted to celebrate this 400th hotel milestone in Lanzhou, and we look forward to making further progress towards our ambitious goal of opening 1,000 hotels in China by 2025. "