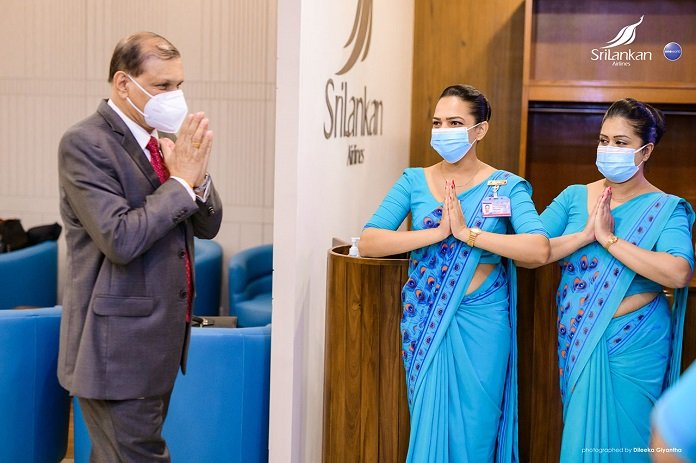 SriLankan Airline reopened Serenediva Lounge in the Bandaranaike International Airport on 23 November 2021 after a 11-month closure for refurbishment. The remodelled lounge aims to provide passengers a space for optimal relaxation while they await their next flight, but also a secure environment that maintains the highest health and safety standards in view of the ongoing pandemic.
The upgraded interior of the lounge done in soothing, neutral shades of Beige, accented with greenery and a wall mural of Sri Lanka's iconic, historical landmarks lends to a calming ambience to help passengers relax. The Serenediva Lounge can accommodate up to fifty customers, who can enjoy a full service, all-day buffet of delectable cuisine freshly prepared for the lounge by SriLankan Catering along with a choice of the finest beverages and bar service. The lounge is also equipped with an internet café and free Wi-Fi.
Serenediva Lounge is complimentary to FlySmiLes Platinum, FlySmiLes Gold, oneworld Emerald and oneworld Sapphire members who are flying on Economy Class to select sectors. The number of passengers travelling via BIA has gradually increased as international travel showed slow signs of recovery in the recent months with the easing of travel restrictions. Therefore, a greater demand for lounge facilities could be expected with the anticipated influx of travellers this winter season.
The refurbishment project was initiated to serve the projected increase in international
travellers within the bounds of COVID-19 safety protocols that have become the 'new norm' of foreign travel. The opening of the remodelled Serenediva Lounge on the cusp of the winter season bodes well to provide a relaxing and secure facility for customers of SriLankan Airlines and oneworld who are booked to travel via Colombo.
Caption. Group picture
Chairman SriLankan Airlines Ashok Pathirage and Chairman Airport and Aviation of Sri Lanka(AASL)Major Gen. (Ret.) G. A. Chandrasiri at the opening ceremony, cutting the ribbon together with (from left) Vice Chairman AASL Rajeewa Sooriyaarachchi and Chief Operations (all Airports) Director AASL Shehan Sumnanasekera