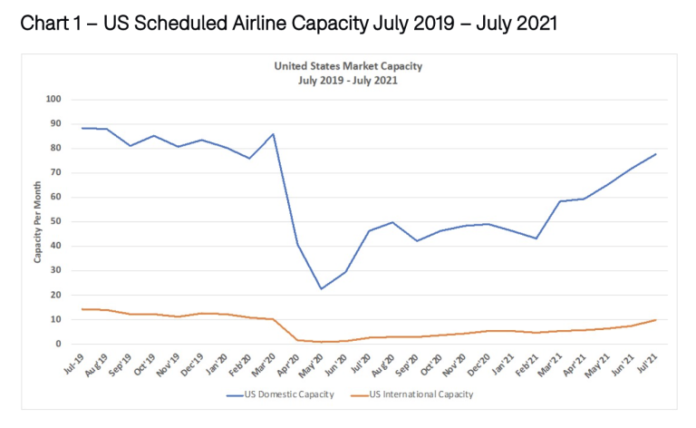 U.S. flight capacity is roaring back – so much so that the U.S. reclaimed the title as the largest aviation market in the world. While pent-up demand, growing desire for non-stop flights, underused aircraft capacity, and airline's "dash for cash" are all contributing to air travel's rebirth, is this growth part of a short-term airline experiment, or something more sustainable?
OAG, the world's collector of travel data, answers this and more with their latest insights:
The U.S. takes the top spot as the largest aviation market with an additional 900,000 domestic seats.
– 9% of U.S. capacity remains linked to international services to points in Latin America, the Caribbean, and Mexico.
With 67.9 million seats newly added, this week marked the busiest for scheduling since the week of March 30th, 2020.
May capacity closed at 279.9 million, nearly double May 2020's seat capacity.
With new seasonal services to destinations in Europe, American Airlines continues to reign as the largest airline, now almost 23% larger than its closest rival, Delta Air.
Over 1,150 new airport pairs have been added since last July; a 33% jump that's creating more traveler choices –and likely more competitive fares.
This rebuild in recovery is also benefitting U.S. airports, according to OAG's latest look at the World's Busiest Airports:
Busiest Airports – Atlanta holds strong: ATL pulled ahead of Guangzhou (CAN) this month, while Dallas (DFW) and Denver (DEN) eek their way into the top 10.
Busiest Airports-Internationally: Despite the Middle East still being closed off to international travelers, Dubai takes the top spot, while Miami and JFK rank at 8 and 9.
With the U.S. bouncing back it's only a matter of time until restriction-free international travel opens up and spurs recovery throughout the international market.