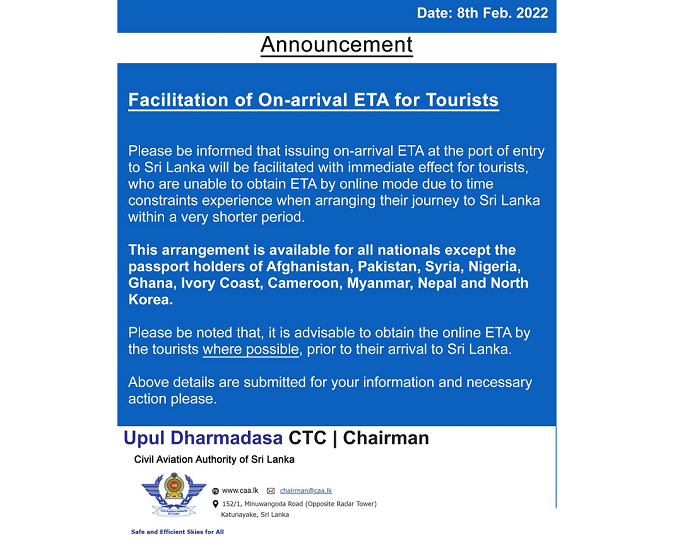 As per the latest travel updates, tourists from India can now get their visas on arrival when they visit Sri Lanka
Sri Lanka has been gradually reopening for tourism, ever since the third wave of the COVID-19 pandemic started receding. And now, in a major development, the Civil Aviation Authority of Sri Lanka (CAASL) has announced that all tourists, except for some select nations, can avail of visa on arrival facility when they travel to the nation. This means that Indians can also get visa-free entry, and once they reach the Sri Lankan airports, they can get their visas.
The CAASL recently tweeted that the on-arrival Electronic Travel Authorisation (ETA) can now be availed by Indian tourists, along with those from most other nations. The only exceptions to this rule at the moment are the passengers from Afghanistan, Pakistan, Syria, Nigeria, Ghana, Ivory Coast, Cameroon, Myanmar, Nepal and North Korea.
However, while the visa on arrival facility is available for passengers, the CAASL Chairman Upul Dharmadasa advises tourists to avail the online ETA from wherever possible, before they enter the Sri Lankan borders.
This is not the first move that Sri Lanka has taken to ease tourism into the country. Last week, in a prior update to this current notice, the country had added more nations who could avail ETA on arrival, if they were unable to do so online due to technical glitches. Now, that order has been overruled, with more nations joining the list.
In another update, Sri Lanka had hoped to ease travel by asking all passengers to avail of COVID-19 health insurance of a cover worth a minimum of USD 50,000. They had also informed citizens that these could be purchased once they reached the Sri Lankan airports, even though purchasing them in advance was advisable.