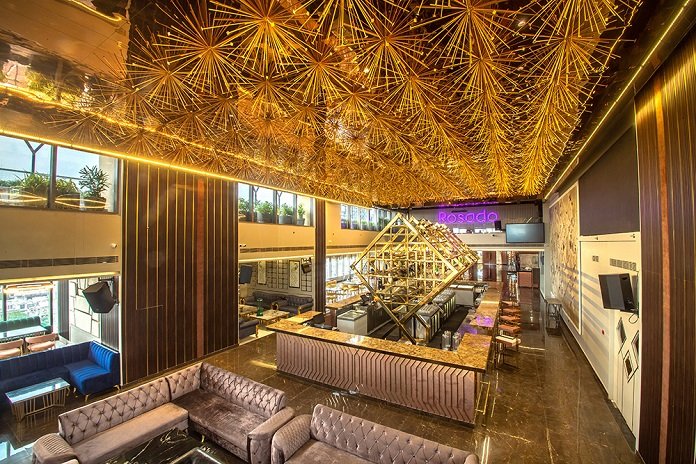 Rosado, the newest luxury lounge and kitchen in Jaipur opens for guests and patrons in the Pink city. Rosado means 'Pink' in Spanish and the luxury lounge is set to give the party lovers and lifestyle enthusiasts of the city a global menu, specially crafted beverages, stunning skyline views and an opulent ambience.
Located on the 11th floor of Mall of Jaipur, Gandhi Path Vaishali Nagar, the 500-seater luxury lounge is at the terrace height of 135 ft.; making it Jaipur's Tallest-Biggest- Sexiest luxury lounge. Indoor and outdoor seating, multiple spaces with themed décor, Rosado is ideal for small and big events and casual dining & drinks with family and friends.
This venture marks the entry of KCCO India Pvt Ltd, helmed by entrepreneur brothers Tarun Behl and Varun Behl into the luxury hospitality and lifestyle segment.
Tarun Behl, founder and Managing Director, KCCO Group adds "Rosado brings a new dimension of luxury experiences to Jaipur and we are looking at target segment coming in from Delhi and Chandigarh as well. Rosado has multiple spaces, which can cater to families, groups and party lovers as well. Our highlights are the city views from 135 ft and a global menu which our guests and patrons will love."
Commenting on Rosado's launch, Varun Behl, co-founder and Managing Director, KCCO Group, said "Rosado is the first step of our brand expansion beyond restaurants and dining spaces. Jaipur is our home base and we have taken local crafts and locally sourced materials for construction, to ensure that our brand stays true to our roots and our sustainability efforts".
Jay Kay Govind, COO, KCCO Group says "The menu at Rosado will be something the city has never seen before. We have brought flavours from the Middle East and Morocco, South East Asia and given a modern twist to some local favourites. Especially our Magnum Platters are a must try!"
Kobid Sinha, Restaurant General Manager, Rosado sums it up as "Jaipur has an interesting mix of history and modern lifestyle. Rosado precisely raises the bar on the city's expanding nightlife and dining culture. We have the perfect ambience and never-seen-before food and beverage offerings. Rosado is Jaipur's Tallest-Biggest- Sexiest luxury lounge now.
Rosado Jaipur is a multi-level luxury lounge and kitchen that has a seating capacity to accommodate 500 guests. Spread over 55,000 sq feet, the luxury lounge is one of Jaipur's best venues for social events, casual and fine dining with well-crafted drinks. The lounge has a modern décor with shades of gold. Different seating venues include Rajwada section, elevated VIP section, al-fresco seating and many more sections to allure our guests. Rosado overlooks the city's skyline and the striking feature of the lounge is Jaipur 360 degrees, its rooftop deck, which at 135 ft terrace height is among the tallest buildings in the city.
The lounge bar and kitchen has a menu of food and beverage featuring international cuisine and crafted cocktails. Must-try dishes include the Magnum Platters and food specials from Milan to Morocco, Siam to Seoul, Mexico to Madrid and of course our favorite Indian kebabs and curries. In the beverage section, it boasts of signature cocktails, well-stirred and shaken classic cocktails and a complete range of best beverage brands from around the world.
KCCO India Pvt. Ltd currently has seven culinary brands under its ambit and its focus is on quality, consistency, hygiene and service across all its outlets. Apart from its restaurants, KCCO India Pvt. Ltd also operates in the space of upscale catering for groups and events. KCCO India Pvt Ltd currently has its presence in Jaipur, Ajmer, Kota, Udaipur with a total 19 number of restaurants and culinary outlets.