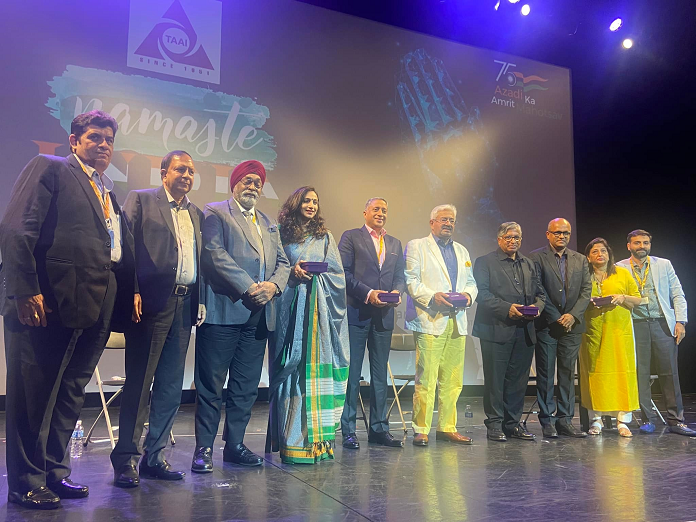 Time to again reconnect, rebuild, and move forward says TAAI President
The Royal Caribbean cruise – Spectrum of the Seas sailed from Singapore for a three-day cruise to Penang and back. The convention was well attended by 312 delegates on board, a first of its kind. An organised early check-in saved a lot of time for the delegates. President TAAI Ms. Jyoti Mayal said that support from the members and TIRUN Marketing helped TAAI to have the event designed in a record12 days.
Stressing on the need of regional tourism, Ms. Mayal said that promoting regional tourism, catering to a well connected traveller and the struggle to find the right balance between use of technology and human interface in the travel industry is the need of the hour. India's neighbouring countries should come forward for the revival of the tourism industry which is now re-connecting and Rejuvenating, amongst the tourism industry is the need of the hour as collective efforts will bear more success.
"Regional tourism is an aspect which I have been actually supporting. Our borders don't need to be closed, another Covid or no Covid, pandemic or no pandemic, we need to keep our borders open so that we can continue tourism. Like I say let India be one state and let the regions be one India. So let us move forward with that thought and see how we can make tourism policies better, so that more people can travel, and how can visas be facilitated. Maybe even how we can have one visa and one tourism policy, one tax structure for tourism only," Mayal said.
Travel trade fraternity in India needs to come together and work closely to bring about a change in perspective and approach. "We need to break from convention to make a good convention. We need to move forward and explore all those opportunities. And believe me, there's a market for all of us. So, there is no competition, there is nothing called the OTAs. There's nothing like brick and mortar shops, all the stakeholders are together in it, and we all need to work together to gain our good share of business," Mayal said.
The interactive sessions during the three-day convention refreshed the minds of the participants as spokespersons shared their valuable experiences. One of the sessions – 'The Connected Traveller' was well discussed where professionals from airlines, hotels and cruise companies discussed how to integrate technology to make travel seamless, faster and easier for the travellers.
While some speakers highlighted how they were using advanced technology like facial recognition to make customer experience better, others raised the issue of intrusive technology and lack of respect of privacy without adequate safeguards to protect the users.
Travel industry needed to adopt technology to keep abreast with the customer needs and expectations, which have undergone large-scale changes since the outbreak of the pandemic. Technology represented an opportunity more than a challenge. "Post-pandemic the times have changed and things need to be looked at differently. The traveller is looking for experiences.
Representatives from Sri Lanka Tourism, Nepal Tourism Board ( with 16 members) and Kazakh Tourism participated and shared the tourism potential their countries have to offer.
The Guest of Honour for the inauguration of the convention P Kumaran, High Commissioner of India to Singapore, spoke about the importance of regional tourism and how the event could be a platform to promote travel from South-East Asia to India and vice-versa.
Angie Stephen, Vice President, Asia Pacific, Royal Caribbean Group in an exclusive to Travel Span informed that Royal Caribbean sees India as an emerging cruise market that they want to target for increasing the amount of people who cruise with them. "Cruising is now popular in the metro cities and spreading to the mini-metros… Most of the major cruise liners are present in India today. Cruising is now a part of the consideration set of the affluent and well-travelled.
TIRUN Travel Marketing, which represents Royal Caribbean in India, is expanding its network in India. Royal Caribbean's newest ship, Spectrum of the Seas, has finally arrived in Asia and we are happy to have the maiden 66th TAAI cruise convention on the Spectrum of The Seas with A 3-night cruise to Kuala Lumpur (Port Klang) from Singapore. Post Covid RCI sees more growth in the next one year as it launches a new vessel ' IKON of the Seas'.
Ratna Chadha, CEO, TIRUN Marketing said' cruising is for everyone' and not just a particular segment. She stressed the need for a favourable policy by the government of India to attract foreign cruise vessels to sail from India and benefit from the vast coastline of 7516.6 kms which India possesses.
The 66th cruising convention has been a success in terms of numbers in terms of participation in terms of the knowledge sessions.