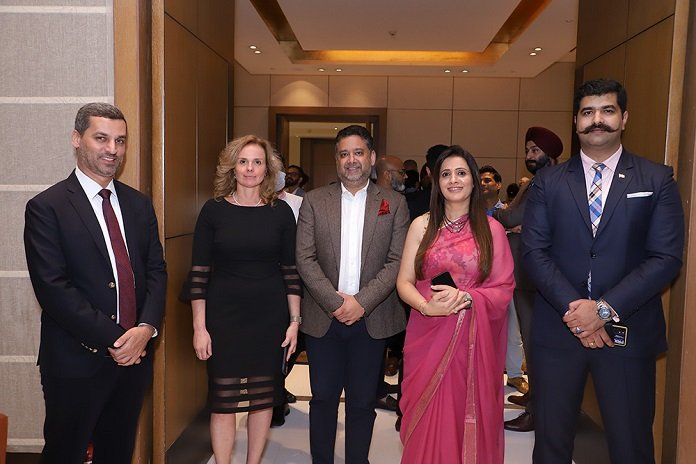 Kicking off its ambitious expansion plans in India, The Red Sea Development Company (TRSDC), the developer behind the world's most ambitious regenerative tourism destinations, The Red Sea and AMAALA, hosted a gala curtain raiser in Delhi and Mumbai on 10th and 12th October 2022.
With its India market representative Think Strawberries as the event facilitator, TRSDC was introduced in an intimate gathering of a select group of top travel agents, OTAs, industry association heads, leading airlines operating in the sector and other prominent industry stakeholders. The exclusive event offered an opportunity for attendees to get acquainted with the spectacular destinations The Red Sea and AMAALA and get a closer look at the grandeur and scale of the exceptional luxury destinations. Representing TRSDC at the curtain raiser were Ms. Loredana Pettinati, Senior Travel Trade Director; and Ms. Reema Almokhtar, Destination Communications Director.
The event kicked off with an exhilarating presentation offering a visual insight of The Red Sea that is well underway gearing up to welcome its first guests in 2023. With a combination of unique experiences and attractions expanding over desert dunes, canyons, volcanoes, heritage sites, monuments, exquisite islands, underwater and some of the world's most luxurious hotels and resorts, the destination aims to set a new standard that will redefine the meaning of luxury and regenerative tourism.
Along the northwest coast is AMAALA, spanning over 4,155 square kilometers of unique terrain. It is an ultra-luxury destination designed to create transformative personal journeys inspired by wellness, arts and culture, featuring the sun and sea, stunning sceneries, mountainous landscapes, golden sands, crystal waters, and untouched coral reefs. Its first phase of development is set for completion by mid 2024.
"Authenticity is at the core of TRSDC's brand narrative. We aim to develop memorable journeys and personalized experiences. India's luxury travel segment is growing at an admirable pace and exhibiting immense promise," said Ms. Loredana Pettinati, TRSDC Senior Travel Trade Director. "Our intention is to engage this market with authentic, immersive and innovative storytelling that rightfully paints a sublime picture of The Red Sea and AMAALA. The Curtain Raiser in Delhi and Mumbai has been a fitting start to a vibrant journey for the brand in India," she added.
The Red Sea & AMAALA – Embracing adventure, culture, luxury, and nature, The Red Sea and AMAALA are two tourism destinations being developed on Saudi Arabia's west coast by The Red Sea Development Company (TRSDC).
Spanning over 28,000 sq km of undulating desert dunes, mountain canyons, an archipelago of 90 islands, dormant volcanoes and ancient heritage sites, The Red Sea will feature 16 hotels, residential properties, an 18-hole championship golf course, entertainment, and leisure facilities within phase one. Each element is designed in harmony with nature and with regeneration at its core. The Red Sea is planning to open in early 2023 and will have increased international access with the opening of the Red Sea International airport (RSI). Leading hotel brands due to open in 2023 include Six Senses, St. Regis and Marriott Ritz-Carlton Reserve.
AMAALA is an ultra-luxury destination due to welcome guests in 2024. Set in the Prince Mohammad bin Salman Natural Reserve along Saudi Arabia's northwestern coast, AMAALA will be the first global integrated family wellness destination, set to curate transformative personal journeys inspired by arts, wellness, and the purity of the Red Sea. State of the art facilities and an attractive year-long events calendar will ensure AMAALA is a distinctive wellness destination worldwide. Featuring diverse natural ecosystems and a unique landscape, AMAALA will feature eight resorts, 200 residential units, a marina and yacht club within 4,155 sq km.
The Red Sea Development Company – Embracing adventure, The Red Sea Development Company (TRSDC) is a closed joint-stock company wholly owned by the Public Investment Fund (PIF) of Saudi Arabia. TRSDC was established to drive the development of The Red Sea and AMAALA, two luxury and regenerative tourism destinations that will set new standards in the tourism and hospitality industry and position Saudi Arabia on the global tourism map.
Think Strawberries – With over a decade of credibility and operations in India and the GCC, Think Strawberries is a trusted partner to some of the world's most prestigious travel and tourism brands. The company has registered a rapid growth trajectory since it was founded in 2010 and provided dedicated representation to a number of premium travel destinations and attractions over the past decade, including Maldives, Saudi Arabia, Jordan, Sharjah, Portugal, Disneyland Paris and Orlando, Taiwan, Majid Al Futtaim, Yas Island, Dubai Parks and Resorts, among others.