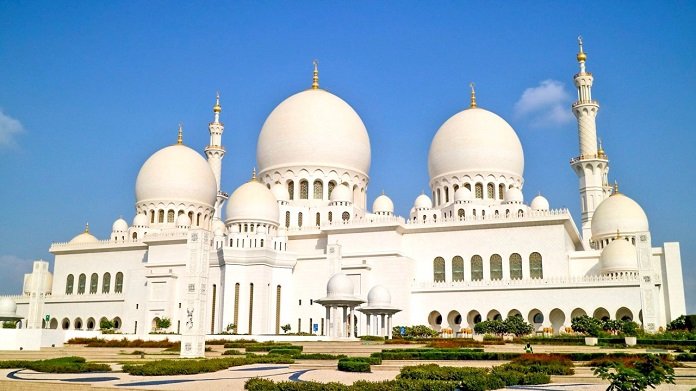 If you are looking for your next travel destination, look no further than this city that is always buzzing with something to do and see. Known as a luxurious getaway with many extravagant sightseeing spots, this city will surely not disappoint. From the golden-hued desert, refreshing nature, magnificent architecture and Islamic cultural splendour this multicultural city has something captivating to offer to everyone.
A large part of Abu Dhabi's wondrous character is owed to its majestic dunes. During your time in this city, you must make it a point to embark on a desert adventure. One can try dune bashing, sandboarding, quad bike rides, camel riding and so much more that allows you to revel in the sandy horizons of the city.
An attraction that is a must-visit is the mesmerising Sheikh Zayed Grand Mosque, undoubtedly one of the city's most beautiful buildings and the biggest mosque in the UAE. It showcases the rich culture of the city and is a great place to soak in the city's Islamic history.
For those who like to indulge themselves in a bit of luxury, there is a multitude of options in this city that will leave you spoilt for choice. From the amazing hotels on Yas Island, deluxe beachfront resorts to the regal Emirates Palace offering a truly royal experience, Abu Dhabi is a city that will not let you miss home.
This city is ideal for shopaholics who wish to indulge in a retail experience like no other. A stone's throw away from the Emirates Palace is the deluxe Marina Mall where one can lose track of time with the endless options available that will appease your inner shopaholic.
Additional 15 top places to visit in Abu Dhabi are as follows:
Saadiyat Public Beach
One of the most happening and amongst Abu Dhabi's most visited tourist places, this beach offers you both, the comfort to relax, recline and rejuvenate along with an adventurous ambience. According to your preference, you can either chill out at the bistros, cafes, sitting areas, and shops or you can indulge in adrenaline-pumping water sports such as kayaking, stand-up paddleboarding, or beach fitness classes.
Al Lulu Island
A hub of exciting activities, this island stretches from Abu Dhabi Breakwater to the Zayed Sea Port. It is one of the most popular beaches with azure water and a variety of beach activities that you definitely would want to try your hands at for some fun and enjoyment. Whenever you visit this island, don't forget to visit the Sheikh Zayed Cricket Stadium and St. Joseph Catholic Church.
Mushrif Central Park
A heaven for nature lovers, this park was initially only meant for women and children. It is an active urban park located in the central part of the city and a must-visit place on the Abu Dhabi sightseeing list.
Things to do: Visit the Animal Barn, Botanical garden, children's garden, wisdom garden, and Park Pavilion.
Marina Mall
Overloaded with luxury this is one of the best places to visit in Abu Dhabi for extravagant shopping. Located near the Emirates Palace Hotel, this mall is a mix of leisure, entertainment, and fashion.
Things to do: Movies, bowling, ice skating and shopping for things from retail stores of leading brands.
Sheikh Zayed Grand Mosque Centre
This place is one of the greatest Abu Dhabi tourist places, it is also known as a Cultural Hub because of its glamorous architecture. It is very famous among foreign travellers because it is not only a religious site but an educational hub too.
Things to do: Visit the library, explore the magnificent architecture and a beautiful sunset.
Qasr al-Hosn
One of the most intriguing places in Abu Dhabi, Qasr al-Hosn reveals the tale of the city and its folks in detail. The first permanent structure of the city was also an ancient residence of the Emirate's ruling Al Nahyan family.
Things to do: Attend the Qasr al-Hosn festival in the fort area which has live music and dance shows.
Heritage Village
If you're looking for a pure emirates experience then you must visit this village located on the shore of one of the city beaches near Marina mall. It is filled with interesting things and is one of the most unique places to visit in Abu Dhabi.
Things to do: Experience typical agriculture and cooking styles, artifacts used by Bedouins and pearl trade patterns of local people.
Safaris
Known as one of the most adventurous places, indulge in a xerophytic experience when you try out the enthralling Wadi bashing or Dune driving in a 4×4 wheel drive.
Things to do: Enjoy the local cuisine and culture, mesmerizing sunsets, camel rides, and belly dancing.
Blue Whale Jet Ski
Experience the adrenaline rush when you try your luck saying hello to a blue whale while splashing waters and riding the bouncy waves with the Blue Whale Jet Ski. This is surely an experience of a lifetime that you can't risk missing!
Yellow Boat Tour
Offering a magnificent view of the city from the other side, this bright yellow boat will take you to Lulu Island, Emirates Palace, Fisherman's village and Corniche. This is one of the experiences when it comes to covering the Abu Dhabi sightseeing places.
Desert Camp
For one of a kind experience, plan an overnight stay in one of the desert camps where you can experience Camel rides, belly dancing, Arabic coffee, sandboarding, shisha, and henna painting.
Ferrari World
For those who love cars, adventure and thrills this branded theme park is one of the best amusement parks in the world. It offers a range of attractions, shows, and rides for all kinds of people. It also includes top-notch restaurants and a vast array of Ferrari products. Do try the Formula Rossa at Ferrari World which goes from 0-149mph in 4 seconds and is one of the fastest roller coasters in the world!
Marina Eye
If you want to experience the best possible panoramic view of the city then sit for a 5-minute ride inside this giant glass capsule of a 196-foot tall rotating wheel. You will see an awe-inspiring landscape which will be a memorable experience that you can end by hanging out near the waterfront later.
Emirates Palace and Park Zoo
If you want a taste of the luxurious lifestyle, then do not miss a chance of visiting this magnificent hotel which is spread over an area of 100 acres with a range of restaurants serving delectable food and a variety of cuisines. The park zoo is home to around 1700 animals which also include White tigers and Siberian bears. You could also enjoy fun activities like breakfast with giraffes and parrots at the luxury resort.
Warner Bros World
This Theme park stands at the third position in the world to be one of its kind with a lot of different features that make this an exciting place for one to visit. They have a range of rides with key attractions like The Joker Funhouse, Jetsons Cosmic Orbiter, Swiss Cheese Spin, and Scooby-Doo: The Museum of Mysteries.
We can promise you that spending your well-earned vacation in Abu Dhabi is a good choice.