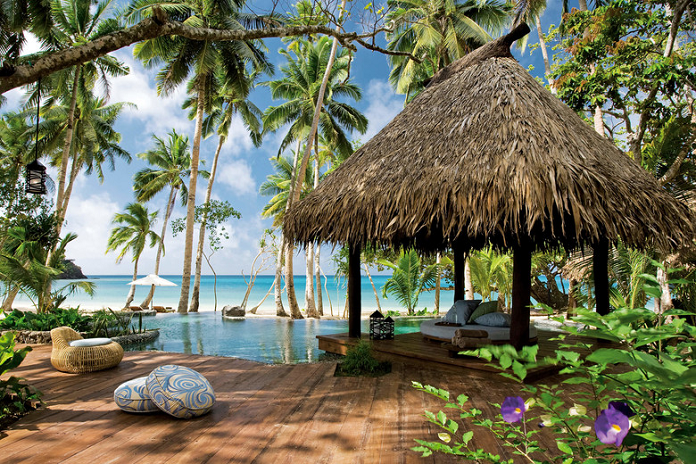 The world's most expensive hotels just got a little more expensive. Supply chain shortages, staffing problems and inflation are showing their teeth in hospitality, yet leisure travelers are taking the hits and not slowing down. For some travelers this summer, price is not a problem. Finding the right accommodation is.
While the world's most expensive hotels can mean a bonanza on commission, not all hotels or resorts are created equal.
The table below shows the 10 most expensive hotels and resorts in the world this summer. The rates listed reflect the minimum nightly price for two people at each respective property for the period spanning August 1 – August 31, 2022.
North Island Lodge (Seychelles) $6,851
One & Only Gorilla's Nest (Rwanda) $6,800
Como Laucala Island (Fiji) $6,440
Singita Grumeti Sasakwa Lodge (Tanzania) $5,800
Amangiri (United States) $4,913
Singita Lebombo Lodge (South Africa) $4,688
Belmond Eagle Island Lodge (Botswana) $4,550
Kudadoo Maldives Private Island (Maldives) $4,473
Singita Boulders Lodge (South Africa) $4,456
Singita Ebony Lodge (South Africa) $4,456
Luxury Travel Spend in Focus
Before the pandemic, the well-heeled traveler spent $363 billion on luxury travel in 2019, according to data offered by luxury market thinktank, Barton Consulting.
More recently, MMGY Global was seeing that adults who call themselves "luxury travelers" said they expected to take four trips over the next year. Their annual Portrait of American Travelers survey found these American luxury travelers expected to spend an average of $3,940 on travel, while other U.S. travelers expected to spend $2,183.
Global payments software company, Flywire released a survey last February showing 72% of luxury travelers will be spending more on vacations in 2022 than they spent pre-pandemic and in doing so, are now increasingly turning to high-end travel advisors — 85% believe travel agents are the best way to get a personalized travel experience.
The survey found that travelers are spending an average of nearly $5,000 per person on each trip this summer, and, as travelers' budgets increase, so do their expectations. In addition to unique experiences, travelers are looking to eliminate any hassles from their travel experiences.
Luxury travelers are also looking for assistance from travel advisors, also known as travel agents, as they factor in health and safety and cancellation policies into their planning. These advisors have deep relationships with global luxury suppliers such as accommodation providers, tour operators, and destination management companies. Flywire's survey shows that more than half of the 648 surveyed will use an advisor in 2022, because, as one traveler summed it up, "One call does it all."
There's also a renewed desire to work with high-end travel advisors because they specialize in curating once-in-a-lifetime experiences for those seeking all those benefits without any of the hassles. Notably, 74% of luxury travelers surveyed say working with skilled advisers is the only way to truly have a luxury travel experience. And 66% could not imagine traveling without an advisor or agent.
When competing for these lucrative travelers, providers must focus on creating experiences for guests that sets them apart while also keeping COVID-19 safety a priority – 88% of travelers surveyed believe travel agents/advisors are more important now thanks to ever-changing travel regulations due to COVID-19.
However, the pandemic isn't the only reason luxury travelers turn to agents and advisors. Other benefits they look for include:
Ease of payment (87%)
Knowledge of travel restrictions (55%)
Problem-solving capabilities (54%)
Takes care of everything for them (51%)
Provides peace of mind (50%).