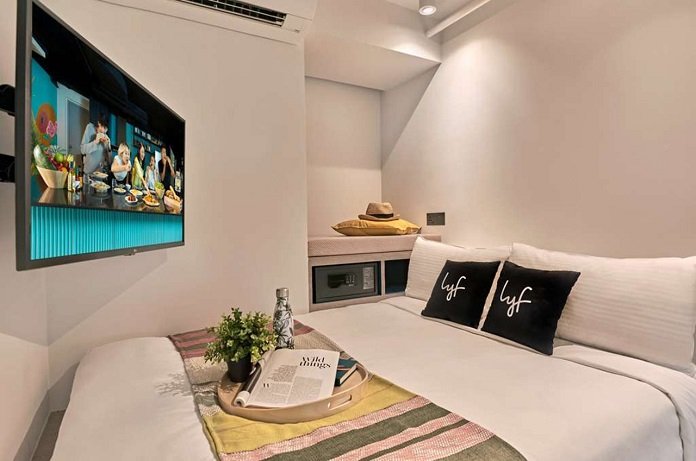 Now open – 324 Rooms
CapitaLand Investment Limited's (CLI) wholly owned lodging business unit, The Ascott Limited (Ascott) has launched lyf one-north Singapore, its first coliving property in one-north, Singapore's research and innovation hub. The 324-unit lyf one-north Singapore will be an integral part of one-north, meeting the hospitality and coliving needs of many innovative start-ups, research and development firms as well as high-tech and media enterprises located nearby, while injecting more vibrancy into the district through its experiential programme and placemaking activities.
Comprising two towers connected via a link bridge, the seven-storey coliving property is designed by award-winning local architecture firm, WOHA, with features aimed to promote bonding, wellness, and community-building through its thoughtful and biophilic designs. Debuting a range of vibrant social spaces and facilities, guests can look forward to new venues to forge connections with each other. Through #lyfgoeslocal and #lyfxart, guests at lyf one-north Singapore will also be able to plug into one-north's community via curated experiences and in-house programmes.
Conveniently located, guests can enjoy easy access to a variety of recreational, retail and dining options near lyf one-north Singapore. The coliving property is a two-minute walk from the one-north MRT station, connecting guests islandwide via Singapore's comprehensive public transport system. The central business district is also a 15-minute drive away.
lyf one-north Singapore is the second lyf-branded coliving property in Singapore, following the successful opening of lyf Funan Singapore in 2019. It is also the first of two lyf-branded coliving properties to open in Singapore this year; with lyf Farrer Park Singapore slated to receive guests in February 2022. Globally, Ascott has 18 lyf properties with over 3,300 units in 14 cities across nine countries. This includes six lyf properties that are scheduled to open in Bangkok, Cebu, Kuala Lumpur, Melbourne, Shanghai and Xi'an in 2022.
Embodying the collaborative spirit of lyf, a new range of vibrant and green social spaces both indoors and outdoors, will make their debut at lyf one-north Singapore. At 'Meet', an outdoor amphitheatre, guests can gather for live performances. They can break a sweat in an exercise class at 'To-Gather', a flexible outdoor activity area, or take a 'Dip' at the 25-metre outdoor lap pool complete with a BBQ pit for an intimate get-together among guests and friends.
Guests can also attend events and market fairs at 'Hangout', the property's rooftop social clubhouse and terrace to unwind, or enjoy an outdoor movie screening under the stars. Indoors, at 'Huddle & Collab', the property's new convertible function rooms are also suitable for hosting a variety of events – from mini brainstorm sessions to larger-scale business functions.
Alongside these new social spaces, lyf one-north Singapore will feature the brand's signature communal spaces that guests have come to know and love. There are 'Connect' social zones for coworking and collaboration, as well as a 'Bond' social kitchen for guests to prepare and share home-cooked meals. Guests can also squeeze in a quick workout at the 'Burn' social gymnasium and get to know their fellow guests better at the 'Wash & Hang' laundromat.
Ideal for expatriates as well as business and leisure travellers, lyf one-north Singapore offers 'One of a Kind' studios with an ensuite bathroom for solo travellers or couples. There are also 'Level Up' lofts that accommodate up to two guests, providing a more spacious apartment to work, play and live.
Guests who are members of Ascott's loyalty programme, Ascott Star Rewards (ASR), can use the Discover ASR mobile app to customise their stay by sharing their pre-arrival and in-stay requests, perform self check-in and check-out, access their apartments, make contactless payments, manage their ASR points, interact with other guests via the in-app social wall and communicate with lyf Guards.
Guests can also earn additional ASR points if they opt out of housekeeping service as part of Ascott's Go Green initiative. With #lyfperks, guests simply need to flash their mobile key at participating F&B outlets to enjoy exclusive discounts.
Commenting on the opening Mr Norman Cross, Head of Lyf brand and general manager of Lyf operations in Singapore, said:
"At Lyf One-North Singapore, our guests can discover new possibilities, spark creative ideas and build meaningful connections. We invite guests to discover the property's well-designed private and social spaces, and carefully curated programmes centred on innovation and sustainability.
"Combining the best of serviced residences, hotels and coliving apartments, Lyf One-North Singapore will meet the demand of next-generation travellers seeking a unique stay."
"With the gradual recovery of travel, higher vaccination rates and the introduction of more vaccinated travel lanes, a huge uptick in business travel is expected this year.
"Lyf Funan Singapore, the largest coliving property in Asia, also achieved an average occupancy rate of over 85 percent, outperforming its peers. We are confident that Lyf One-North Singapore will perform well and provide a memorable and safe home away from home for our guests." lyfbyascott.com