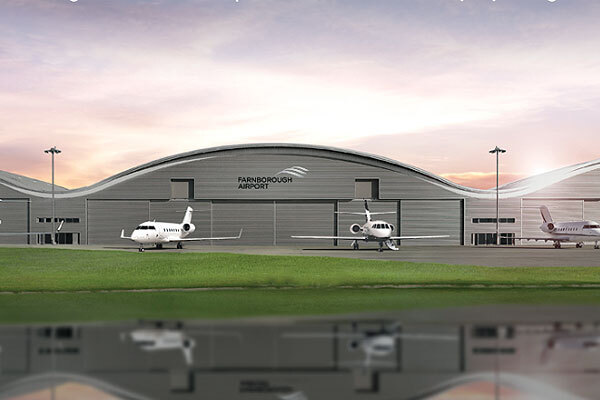 According to data from RadarBox.com, movement statistics for Farnborough Airport increased by 16% due to the airshow that happened last week.
This comes as no surprise as the many aircraft, either on static or flying display, flew in the weekend before to get ready for the airshow.
The Numbers Between July 16-23, the airport recorded a 7-day average of 98 movements, which is +16.67% more than the same period in 2021 and higher than 2020 and 2019's numbers too.
As you can see on the table, you can see that 116 flights operated on July 15, which would represent when some of the aircraft came in. On top of the high number of airshow attendees, these numbers also reflect the uptick in business jet movement that has been seen at the airport this month too.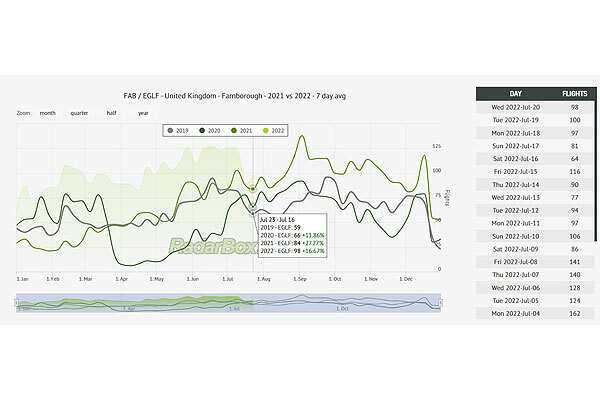 For July 19 and 20, this uptick would have been seen mainly from the business jets that came in and may have had certain executives onboard them as well.
As you can see on the table as well, the numbers were more or less in triple figures at the beginning of the month as well, meaning that Farnborough has been experiencing good traffic without the need for an airshow too.
Business Travel On The Rise…
Business travel is on the rise, and airports like Farnborough and even Le Bourget have been experiencing double-digit growth in this industry.
As more business jets are being delivered, fares for business travel are slowly decreasing, which means it is making it more accessible to the middle-class wealth class, rather than exclusively upper-class.
Between 2020 and 2029, there will be a need for 6,362 new business jets, worth around $217.5 billion. There are even more optimistic predictions that mention that there is a need for 7,300 new jets, valued at around $235 billion between 2021 and 2030.
Data from 2019 shows that Europe holds around 13% of all business aircraft in the world, with Germany having the highest number, the UK at second, and France in third.