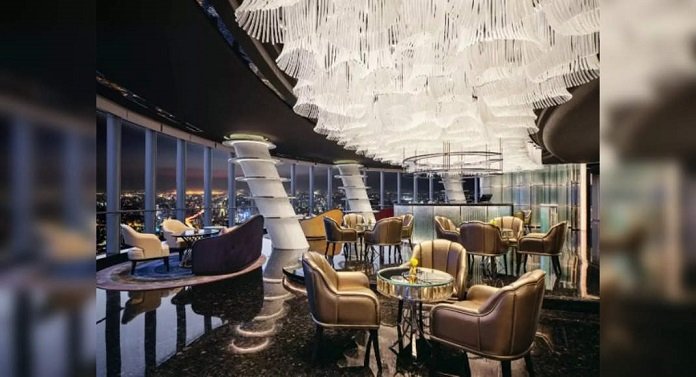 Synopsis
The previous record for the highest restaurant was set in 2011 by At.mosphere, an upscale fine dining restaurant and bar sitting on the 122nd floor (441.30 m) of the iconic skyscraper Burj Khalifa in Dubai. Heavenly Jin is 100 m higher than the previous record-holder
Shanghai in China has become home to the world's highest restaurant in a building! Sitting on the 120th floor of the J Hotel Shanghai Tower, the Heavenly Jin restaurant, is officially named the "Highest Restaurant in a Building," by Guinness World Records. The restaurant allows people to dine at an elevation of 556.36 m (about 1825 ft) above the ground.
Jenny Zhang, the general manager of J Hotel Shanghai Tower, said, "Since opening, the restaurant has been praised by customers for its high-quality dining experience and service. We welcome guests and friends from all over the world with a higher level experience above the clouds."
The previous record for the highest restaurant was set in 2011 by At.mosphere, an upscale fine dining restaurant and bar sitting on the 122nd floor (441.30 m) of the iconic skyscraper Burj Khalifa in Dubai. Heavenly Jin is 100 m higher than the previous record holder.

The Shanghai restaurant is all about fine dining and memorable experiences. As per the hotel, the restaurant features an incredible open kitchen and floor-to-ceiling windows, offering stunning outside views. Another prime feature of the restaurant is a 30-m-long Italian mosaic tile mural depicting the Silk Road. The restaurant has an eclectic menu and offers a great mix of Western, Chinese, and Japanese cuisine. One can also enjoy afternoon tea service here.
Apparently, the J Hotel Shanghai Tower is a deluxe property that is also the tallest skyscraper in China, and the second tallest in the world right behind Dubai's Burj Khalifa.
Though the restaurant in Shanghai is the highest in a building, it's not the highest in the world. The title still belongs to the Chacaltaya ski resort in Bolivia at an altitude of 5340 m (17500 ft).