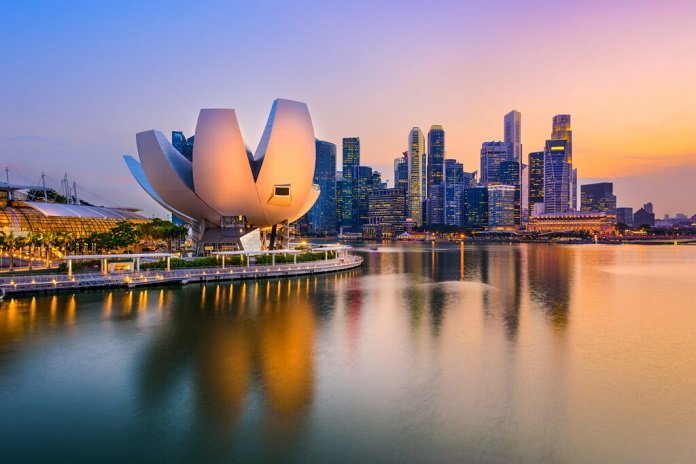 Singapore's Ministry of Health has announced changes to entry requirements for visitors entering Singapore via the Vaccinated Travel Lane (VTL), from 23.59 (SGT) on 21 February 2022, with visitors continuing to enjoy quarantine-free travel via the VTLs.
Streamlining of Vaccinated Travel Lanes (VTL) requirements
Travelers from the UK arriving in Singapore, on a VTL flight, will no longer have to complete a PCR test upon arrival and will instead, have up to 24 hours to take a supervised self-swab (SSS) ART at a designated test center. Additionally, the requirement of unsupervised self-administered ARTs on days 2 to 7 of the visit with cease; and the travel history requirement will be reduced from 14 to 7 days.
Restoring and Expanding Vaccinated Travel Lanes (VTL)
To further facilitate vaccinated travel, Singapore will restore and progressively increase VTL quotas. VTL (Air) quotas will be fully restored with immediate effect.
A new VTL with Hong Kong and the previously deferred VTLs with Qatar, Saudi Arabia, and the United Arab Emirates (UAE) will also be launched. Singapore aims to progressively launch VTLs with more destinations as we move towards facilitating fully vaccinated travel.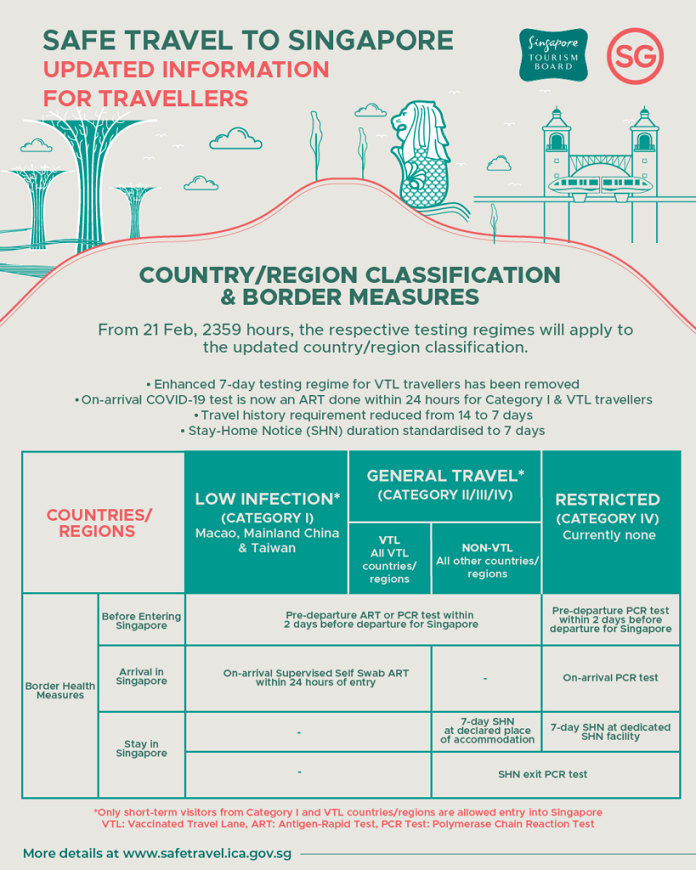 Bi-directional quarantine-free sea travel between Singapore and Indonesia will resume with the launch of VTL (Sea) from Bintan and Batam. The VTL (Sea) will benefit users of Indonesia's travel bubble to specific resorts in Bintan and Batam and facilitate short-term leisure travel. VTP applications will open on 22 February 2022, and the first ferry trip will take place on 25 February 2022.
Michael Rodriguez, Area Director Northern & Southwestern Europe, Singapore Tourism Board commented, "As travelers from the UK are now booking holidays again, we are pleased to share this latest update and hope this will encourage visitors to book their next holiday to Singapore where they can enjoy quarantine-free travel and reimagined experiences with safety in mind."
All travelers entering Singapore under the VTL will have to comply with the following requirements:
Designated VTL Flights
Travelers who are traveling to Singapore under the VTL must travel into Singapore on designated VTL flights.
They may transit via another VTL country to take a designated VTL flight into Singapore. More information on the Vaccinated Travel Lane and entry requirements can be found at www.safetravel.ica.gov.sg
Vaccinated Travel Pass (VTP)
The Vaccinated Travel Pass (VTP) allows visitors entry into Singapore without the requirement to undergo the usual 7-day quarantine. Requests to obtain the VTP must be made between 3 and 60 calendar days prior to travelers' intended date of entry into Singapore. Applications can be made via https://safetravel.ica.gov.sg/vtl/apply-now
Travel History
Travelers must have remained in one or more of the active VTL countries in the last 7 consecutive days prior to departure to Singapore.
Vaccinations
All VTL travelers must have been fully vaccinated and present their proof of vaccination. An individual is considered fully vaccinated 14 days after he or she has received the full regimen of Pfizer-BioNTech/Comirnaty, Moderna, AstraZeneca, or other World Health Organisation Emergency Use Listing vaccines.